Fee information for Early Childhood Music Playgroups
All classes are running face to face at our venues in Randwick and Batemans Bay.
Fees for 2022 (inc GST)
Sydney: Term 1 Randwick venue - we are running classes outdoors weather permitting - for February, at nearby Centennial Park. If it's bad weather the classes will run indoors with improved ventilation. You will be notified by text message and email early on the morning of your class, if it's indoors. The Sydney fee is $25 per class per child. Classes are on Wednesday, Thursday and Friday at Randwick.
Batemans Bay: The fee is $20 per class per child. Classes are on Friday at Batemans Bay.
SIBLING FEE extra $10 per class.
If your booking is new to Ukubebe, your new percussion and resource kit will be added to your term fee, at the online 'checkout'.
CASUAL FEE please pay before your class. Please do not arrive unannounced at your class, as we are required to manage numbers of people in our COVID Safe plan, thank you.
Make up classes may be available for missed classes due to sickness, if you give us notice of your absence.
If you do not attend your class and you haven't given us notice, we cannot offer you a make up class, as your spot could have been offered to another family, and everyone looses out.
The Ukubebe Term percussion and resource kit is a requirement for all children attending any class. The kit is yours to take home and keep. Please bring this kit to every class.
Our preference is to use these instruments, as they have been chosen because of the quality of the sound and sensory properties. Please do not supply your own instruments or resources at our classes.
The percussion kit has been added to your cart at the checkout, and will be included in your class fee. If you click the image the kit will be removed from the checkout.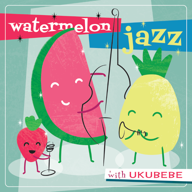 All children attending the Early childhood program and the ukulele class are asked to purchase the new Ukubebe album 'Watermelon Jazz' so they can sing and play at home
New Enrolments
New children are always welcome and term fees are due before the first class of term to secure your place (subject to availability).
Continuing children
Term fees are due by the start of term, to secure your place.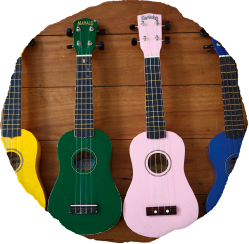 Set Up Your Account!